James Harmes – 2019 NSW Demons sponsored player
When you become a sponsor you are automatically in the running for one of these great prizes:
A. Two tickets to the Keith 'Bluey' Truscott Memorial Trophy Best and Fairest Awards Dinner
B. Two tickets to the Keith 'Bluey' Truscott Memorial Trophy Best and Fairest Awards Dinner
C. 2019 match worn jumper signed by James Harmes
D. 2019 MFC Squad poster signed by the team
E.Two invitations to attend an exclusive BBQ in the pre-season
F. Two invitations to attend an exclusive MCG and AAMI Park Tour
F. Preferential selection for one child to go into the MFC Guard of Honor at the MCG
Read Stephen Rundle's report on last year's B&F here. 
We are delighted to sponsor James again this year and would love you to join our sponsorship.
In 2018 James relished a new role in the Melbourne midfield which led to him becoming a key member of the midfield rotation. James's defensive and offensive skills have elevated him to an elite level and he wrapped up the season by finishing 3rd in Melbourne's Best and Fairest. Congratulation James!
Support James and the Melbourne Football Club in 2019. Buy a share in the NSW Demons sponsorship for only $50.  Buy your share here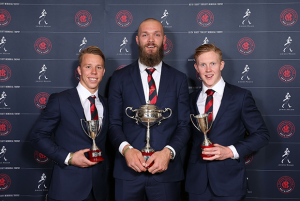 You can read more about James in an interview with AFL Players here and listen to him in the Demonland podcast here.