So how could any modern-day, dyed in the wool Melbourne fan be anything but completely and utterly Dee-lighted with a Christmas stocking that is so jam-packed with such soul-soothing content as this!?
Nigel Dawe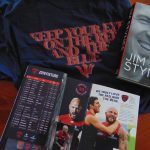 Firstly an MFC membership package (for the 33rd year in a row – the great 'Sugar' Healy's old number, not to mention our little soaring Grand Final forward 'Wizard' Farmer, now there's a sign or two for you…) followed by a book about our immortal Dublin's Jim, and then to 'top it all off' a shirt for the ages that stirringly says: 'Keep your eye on the red and the blue" with a menacing pitchfork too – you have to admit, it is absolutely – die and happily go to heaven stuff!
Just to set the record straight, in no other realm of my existence do I believe in omens, superstitions, signs or anything that insinuates anything remotely reflective of divine interventional givens, but I am willing to stake my [beyond next season] credibility on the fact – that years that end in '9 have proven more than club defining ones in our team's history.
Take '1939' (which even finds its way into the 'extended' version, albeit the now long lost verse of our club's theme song) – "well the team played fine in the year '39" – that being a full 6 years after the game's first 'super-coach' Checker Hughes famously asked, if not fumingly insisted of his then budding 'Fuchsias' at half time of a game to: "Lift your heads and start playing like DEMONS!" and peerlessly fearless Demons they would more than go on to become, taking out a three-peat of premierships in '39-40-41. The fact Percy Beames was best on ground in all three of those Grand Final wins is a feat surely destined to never be emulated by anyone ever again.
Not to mention '1959', the year our revered Demons cemented themselves in the game's most elevated echelons as one of the greatest teams of all-time, forget about the adage of 'one year to the next', this was a coach of the century led ornament to the game, a side that could've actually claimed seven premierships in a row if not for the Grand Final losses of '54 and '58.
So without putting too much undue pressure on Simon Goodwin to follow in such 'how fine are the years ending in 9' suit, I reckon – and harshly mark and frog-march me away if I'm wrong – that our modern-day airs to the tenacity and spirit of Tommy Wills out there in the red and the blue are due for one hell of an almighty season. And just quietly, look out for the son of Todd, to further etch the Viney name in gold at the MCG with a Brownlow.
Ah, for better or worse – season 2019… here we come!
Season Summary – 2018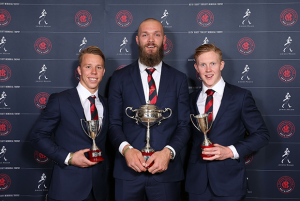 By Liam Chambers
What a year 2018 turned out to be! There were moments of brilliance and dominance as well as disappointment until finally the team showed their true potential. When it again looked like the lads were off on an early holiday to the snow, they confounded the critics and reached their first finals in twelve years. After the initial shock of losing so badly to the West Coast Eagles in the preliminary final, Melbourne can now take stock. The Dees can look back on the 2018 season with justifiable pride.
There were some momentous games and a few we'd rather forget but Melbourne has continued it's upward trajectory from the 2013 season when we only won two matches. After the disappointment of missing out on playing finals by the smallest percentage in AFL history in 2017, it looked like the Dees would fall agonisingly short again this year. We lost the game we had to win against the Sydney Swans in Round 21 but then we had a dream run of four games when it looked like we could go all the way.
The Preliminary Final loss to the Eagles in Perth will be debated for years to come but Melbourne will have learned a valuable lesson from the experience. I'm sure the players and coaching staff will watch that game many times during the pre-season preparation. It won't be easy viewing but it will be essential viewing. I haven't been able to watch it again yet. It will make the players mentally tougher and more determined in 2019.
With so much talent in the Dee's side, they will be an exciting team to watch. When Max Gawn received the Keith Truscott Memorial Trophy he made an acceptance speech that was inspirational and insightful. He spoke about how well the team was working with the various coaching staff, modifying the style of play to improve their game and realise the team's potential. He was humble and self effacing at times but he left no one in any doubt that Melbourne will be taking it up a notch next year. A player like Gawny can change the way a side thinks about itself when they're behind in a game. Of course there is much more to the Dees but the players look up to him both literally and figuratively.
This team is getting the basics right and that's essential. You can have a team of the most talented individuals in the AFL but everyone has to use that talent as part of a team. Natural flair is enhanced with practice and doing the basic stuff over and over until it's like breathing. I watched an interview with Shane Warne recently. He was promoting his autobiography "No Spin" (great title). He spoke about how he would practice the same bowling techniques for hours at a time. He would set himself a target and wouldn't stop until he achieved it three times. Sometimes it took 20 minutes; sometimes 3 hours. I think it was Gary Player who said "the harder I practice, the luckier I get". Maybe Melbourne will be the luckiest team in the AFL next year.
2019 – AFLM
Of course we have a wealth of talent in our Casey Demons side as well. They have been superb this year and only just failed to secure their own Grand Final win. The Melbourne players that spend a few weeks in the Casey side often play in different positions and come back with a new perspective on the game. Casey Demons will continue to be hugely important to the Dees in 2019.
New players joining Melbourne will be Gold Coast defenders Steven May and Kade Kolodjashnij. North Melbourne ruckman Braydon Preuss will also join the Dees. Unfortunately, we are losing Jesse Hogan and Dean Kent and midfielder Dom Tyson.
2019 – AFLW
Well, it's less than five months until the start of the new AFL season and before that we will have the AFLW games to look forward to. Unfortunately, while there will be two extra teams competing in 2019, there will still be the same number of games played. One of the reasons given is that they the AFL is building it up from the grass roots level and it will take time to establish the new competition. Also, traditional AFL fans will be slow to embrace a separate women's game running alongside the men's league. The potential danger though will be the best women athletes being attracted to other codes and the AFLW struggling to gain a foothold in the coming years. Let's hope the issues can be sorted out quickly so the game can reach it's full potential.
Go the Mighty Dees!
Stephen Rundle
First of all, I must thank the NSW Demons for the opportunity for myself and my wife Deb to attend this year's B&F. I wasn't aware that there was the possibility of winning a prize. I just wanted to help the club.
As for the night, it was excellent and a very slick production. It started at 7pm on the dot and finished exactly at 1130pm. We arrived about 15 minutes early and had the opportunity to see a lot of the team arrive. There were a few people there after autographs, which the players happily obliged but those who where attending gave them space. It was their night.
Pre-dinner drinks started at 7pm but it was so crowded that it was impossible to get close to the bar and most people went directly to their table. And for good reason. It was the largest number of people that had ever attended the B&F. Just over 1600 where there. That shows how successful the club has been this year. It was (I think) Peter Jackson who mentioned that at one time only 450 had attended. The NSW Dees where on table 106 (of about 178) right next to the Cheer Squad who where in fine voice.
As mentioned before, it was a very slick production. The food came out on time and hot, and was delicious. The drinks service was great and my glass wasn't empty for too long. I call it the bottomless glass. Very dangerous for those not aware, and there where a few who got caught out.
The presentations of the awards where very fast. No speeches from most awardees. This was a bit strange to start off with until we realized that the event wouldn't finish until 2am if everyone got a say. Speeches by Bernie Vince and the top 5 B&F winners only.
No rumors as such, just observations:
1. Neville Jetta and Christian Petracca where on crutches. Jesse Hogan was in a moon boot and the next day Clayton Oliver was going in for his first surgery for his shoulder.
2. This was Peter Jackson's last night at the club and his affection for it showed through when he teared up a couple of times during his farewell speech.
3. The most popular players where Neville Jetta and big Max. Both standing ovations.
4. Bernie Vince was very cheeky with his speech and I'm still not sure if he meant to say what he did or it was an accident. He was however well received by all.
5. Max Gawn may have let the cat out of the bag during his acceptance speech and he thanked his girlfriend and said he is looking forward to the rest of their lives together. I think everyone thought he might go down on one knee but it didn't happen.
6. The loss to West Coast is still hurting and the players are determined to go one better next year. They are keen to get back in to training and aren't been complacent about getting in the top 8 next year. They know they have to work hard.
7. There was a lot of love, enthusiasm and a faith that we are going in the right direction and going about it the right way.
I recommend that everyone should try and get to a least one B&F and maybe book early next year. I don't think the room could fit many more, especially if we are in and win the GF.
Many Thanks
Need I say anything more, except for perhaps – stay true, and always be sure to "keep your eye on the red and the blue!"
by Nigel Dawe
Well, all-in-all I'm not sure where what I just saw sits in my overall experience of and yet undying loyalty to the Melbourne Demons. For a day that got underway so 'promisingly' with an article in the sports section of 'The Australian' about how Jack Viney (to the more or less stat and dimension) 'is' Ron Barassi re-incarnated in the greatest combination of colours known to man – red and blue. Not to mention the awe-inspiring front page of the 'Herald Sun' that featured no less than Jim Stynes' very own family urging our team to 'Do it for Dad'.
However fast forward a few hours and my first distasteful slither of journalistic creative license (to put it politely) is the seemingly accepted and utter farcical nonsense of a 'Norm Smith curse'. I find the remote suggestion of such a thing fully-blown tripe and a sacrilegious tarnishment of a legacy that towers above all others in the game outright, let alone at the club we love.
For a bloke who 'featured' in 10 of this club's 12 premiership successes and who I once saw implore in an old pre-colour TV interview: "I am Melbourne through and through!" – to suggest he is now concocting some beyond the grave vendetta against us is as fantastically far-fetched as it is outright treasonal, and I would challenge any one of the self-proclaimed know-it-all scribes peddling this 'pitch' to run it by Norm's living protégée and arguable surrogate son – Ronald Dale Barassi – and see if they still have any teeth afterwards!
Anyway, I digress, I am skirting the major topic now, and that was the first half of a game which should have propelled us into a pre-destined showdown with the old foe – Collingwood in a Grand Final of all things, which was alas…not to be.
However, I am nothing if not the consummate optimist, the now rather tried and tested, out and out – Mr Glass Half Full, even at the darkest of darkest times, for I at least knew as our boys trudged into the rooms with 6 points to their name after an hour's play that we had actually tripled our all-time lowest score of 2 points for an entire match, so we were well clear of that 'distinction'!
But what a day, not to overly unpack or re-live again what took place before our wounded hearts and eyes, being the literary tragic I am I can't go past two phrases that will forever sadly sum up for me the second preliminary final of 2018.
The first is by the great Aldous Huxley, who once chimed – "The martyrs walk into the arena en-masse, but they are crucified alone" – which was a pertinent line that quickly came to mind like a misdirected handball in your opponents forward line that results in a goal – sorry Jordan Lewis, I still deeply admire your output, presence and what you've brought to the club.
And the second 'pearl' I can't offload from my mind is Ted Hughes' missive, which I wish wasn't so apt, but: "Like apprentice house painters in the company of architects" is how so many of our boys appeared in the heat of battle over there in the west.
And so when it's all said and done, the most beautiful thing about our game I think is that it is one that ever affords you chances, absolute opportunities and reasons to go on – none more driving or pitch-fork prodding than that offered by redemption, and the eternally 're-granted' moment to prove the world wrong and that you belong at the top of the tree, when you bide your time that is, and learn to steel yourself upon the searing coals of defeat.
That raised and re-dressed, I urge everyone to try to refrain from being overly critical, because none more-so than our players are disappointed right now. Show resolve, 'support' and take heart fellow demon die-hards, to rest assured that as each season passes we get one closer to re-living that greatest of all seasons – 1964, and thus need I say anything more, except for perhaps – stay true, and always be sure to "keep your eye on the red and the blue!"
Can you believe this? It's been a long 18 years since the Mighty Demons have had the chance to play off for a spot in the big dance and it came against a side that not only caused us heartache in 87 and 88 but has consistently beat us for many years.
by Darren Spence
The wooden bar at the Eastern Promise bar in Jakarta has copped a pounding over the years by me – mainly in anguish – but it was in triumph on Friday night as the Dees won a hard fought game over the Hawks by 33 points.
I was hoping for another fast start but it was the Hawks that got out of the blocks with the first major and things were all tied up at the first change. The Hawks will be rueing their chances in the 2nd quarter as they embark on Mad Monday as a goalless second quarter saw us take a very handy 19 point lead into the main break.
The third quarter was by far our best as we were able to play the game on our terms and a 6 goal to 3 3rd term saw me grinning from ear to ear at the last change and a 32 point lead. It soon went though…..the first 3 goals to the Hawks saw us seriously wobbling…the Melbourne of old would have lost from here. however this team is not to be outdone and a piece of Melksham Magic steadied the ship and then 2 quick goals in succession and the game was ours….We are in the Preliminary Final!!!
Viney was sensational, however I am going to do a Lou Richards type act and give my Robert Klomp award to Neville Jetta. Yes he only had 17 possessions (albeit more than Klomp got when he won the TV back in 1981) but to keep All Australian Luke Bruest scoreless on the night – for me he was my best player. I am very sorry Viney, you still have my love. The All Australian selectors definitely got that wrong – we should have had 3 AA players this year, Neville you were stiff!
TMac again was dangerous all night and finished with a game high 4 goals, I mentioned Viney he also led the possession account with 27, Harmes blanketed Mitchell and had a game high 11 tackles, Petracca was electric, Hibberd was composed and all in all it was a magnificent night to be a Melbourne Demons fan!!
The Eagles in Perf hold no fear for us. We have beaten them twice in row over there and there will be no stopping the Dees next Saturday!!!…2 go to boys….Can they do it?…Oh yes they can!!
Go Dees!!!