Home
Latest News
Sponsoring Olivia Purcell in 2022 – Season 7
NSW Demons are delighted to be sponsoring Olivia Purcell in AFLW Season 7 and supporting our AFLW team in 2022.
Liv debuted for the Dees in AFLW Season 6 and played in the last 6 games including the Grand Final. Liv brought her competitiveness and work around the contest to add to our mid field strength. We're looking forward to watching as Liv continues to develop this season.
You are invited to join us in sponsoring Liv again this year when we hope to go one better than our 2nd place finish in Season 6.
---
Dees served duck for dinner
Round 21 – Melbourne V Collingwood
Liam Chambers
When Ed Langdon made his "all duck and no dinner" jibe, he may have been thinking of Tzu Sun's quote "continue to find ways to anger and irritate your opponent, for decisions made out of anger are often petulant and rash, which can lead to advantages for you".
Unfortunately, rather than being petulant and rash, the Magpies instead looked more focused and ruthless. Langdon was brutally targeted within the first thirty seconds and a minute later Collingwood had their first goal courtesy of Jordan De Goey.
Melbourne's response was instantaneous. Having won the hitout, Jack Viney secured a free and kicked inside 50 where Christian Petracca caught the loose ball in the air, spun around and snapped the goal. The other Christian (Salem) then won a free for his run down tackle inside the 50m line. His set shot from 48m sailed through. It was three in a row when Jack Viney took a handball from Luke Jackson, then chipped it across the line.
---
Our memories of Noel McMahen
NSW Demons Legends Dinner – Noel McMahen – 2004
Michael Peters
Noel McMahen, one of the fine players of Melbourne's greatest era, has died aged 95. Demon supporters in Sydney will remember Noel for his visit to us in 2004, when he spoke to us in the Sydney Cricket Ground Members Dining Room.
Noel played 175 games with Melbourne from 1946 to 1956. This included membership of the Melbourne Premiership teams of 1948, 1955 and 1956. Noel was a Victorian State representative in 1952 and 1954. He was Melbourne Captain in 1955-56.
Vale Noel McMahen: from Mordialloc boy to a Melbourne Immortal
Nigel Dawe
GREATNESS, in a game like Australian Football, or more specifically at a club like the Melbourne Demons (the world's oldest football club) resides not in the retrievability or conciseness of mere statistical facts; in spiffy, well-worded player bios or tables of match possession tallies and totals.
If it did, history would recall the number 35 wearing Noel McMahen as simply the 667th player to appear for the Melbourne Demons in the post-1897/ VFL era; or merely the man to have played the 32nd most games for the club with a tally of 175 between 1946 and 1956.
---
Appreciating Greatness

Nigel Dawe
The double-edged thing about success when you get it, is that you shouldn't ever expect or consider it your natural right or entitlement.
As a long-term devotee of this team of ours, I don't for a moment reach for any panic button or delete keys because our side has suddenly dropped their last three games (after winning the previous 17). Quite the opposite, I think the next few weeks will be the most exciting, if not the most telling ones we've had for a very long time.
The great thing about champions (in any sport) is that they rise when all seems lost, it's not the ginormous score lines or the sublime repeated passages of faultless precision, but the seemingly insurmountable tight spots they can somehow get out of, that might otherwise ensnare and crush those of a lesser mettle.
Whilst the last three weeks of footy haven't been the most enjoyable ones I've ever experienced, they have reminded me of the thrill I have always taken from watching the Melbourne Demons (irrespective of them winning or losing).
---
Player sponsorship
NSW Demons are sponsoring Olivia Purcell and James Harmes in 2022.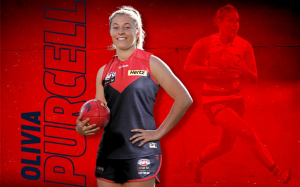 ---
The Cup in Sydney
THE DEMONS' Cup Tour made its way up the highway to Sydney for the NSW Demons to celebrate the premiership win.
Melbourne supporters got up close and personal with the 2021 AFL premiership cup in Sydney on Wednesday 8 December at the Camelia Hotel in Alexandria.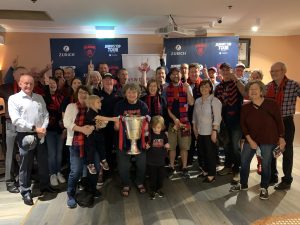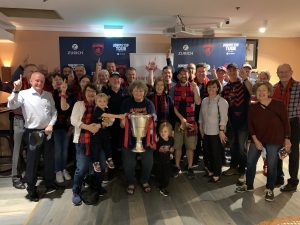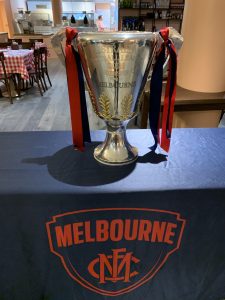 ---

---
Nigel Dawe
FOR someone who has spent pretty much their entire life putting pen to paper, trawling facts, and following the same football team; I don't think I've ever had a more delightful conundrum, than the one regarding how I should best kick off this Melbourne Demons 'premiership-winning' segment.
Initially, I thought I'd lead with cloud 9, then I considered seventh heaven to be more apt, but I've decided to go with, albeit bask in the given – how about – Premiership #13… for the team we love, the team of the red and the blue!
For countless years, I've imagined how seeing and savouring a Dees premiership would feel, having seen so many other clubs 'go all the way' and break their respective droughts… to now be able to say, that I have finally seen us win 'the big dance', I have to further say – it was more sublime, unbelievable and transporting than anything I could have ever remotelyAbove all, it's not that we did it, it was 'the way' we did it, to come from 19 points down halfway through the 'premiership quarter' to finally win by 74 points (the eighth biggest win in grand final history) by booting 16 of the last 17 goals, was the most emphatic and enjoyable way to end our 57-year premiership drought.  Read more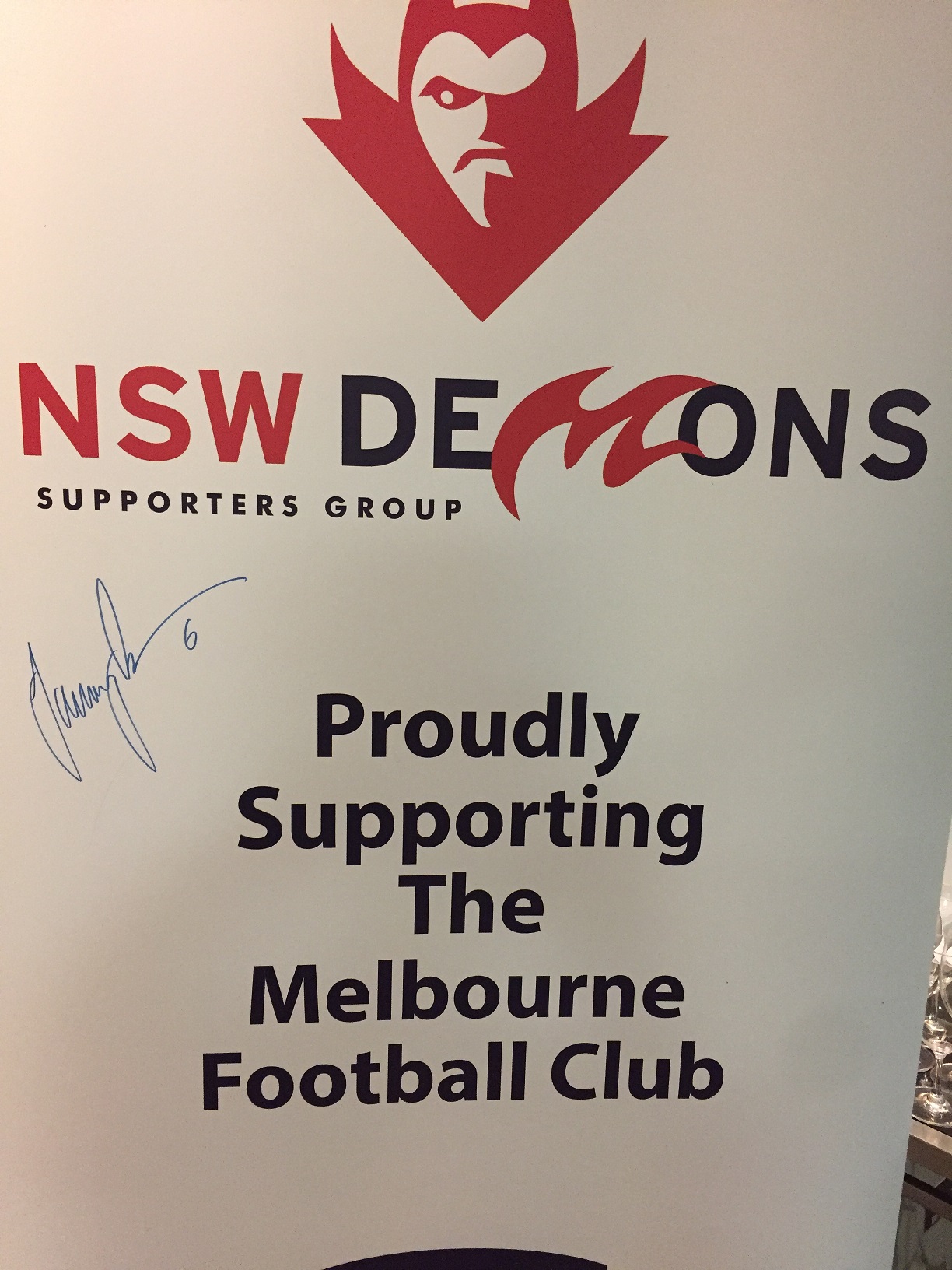 NSW Demons Big Screen venue
​​The Camelia Grove Hotel  (aka The Cammy) is the official home of the NSW Demons.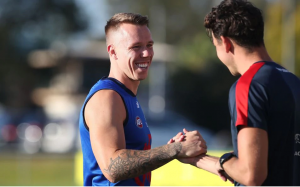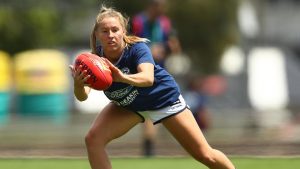 Sponsoring James and Olivia
We are delighted to announce that we are sponsoring James Harmes and Olivia Purcell in 2022.
Join us in sponsoring James and our Premiership team and Olivia and our AFLW team.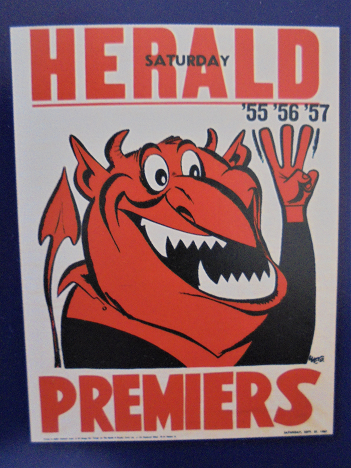 Our stories
NSW Demons dyed-in-the-wool fans
We have some absolute troopers of our own in the ranks of the NSW Demons.  Read the stories here