Home
Latest News
Welcome Matthew Jefferson and Beyond Bank in 2023
Sally Trevena
Welcome to 2023 and we are delighted to announce Matthew Jefferson as our sponsored player and Beyond Bank as a NSW Demons supporter.
We are sponsoring Matthew this year and invite you to join us. We're excited to watch Matthew and Jacob van Rooyen develop into our key forwards over the next decade – shades of Schwartz and Neitz!  You can read more about Matthew here.
Our sponsorship gives us access to a range of goodies including exclusive events, signed jumper and player updates. You will also have the opportunity to win double passes to Sydney Kings home games at Sydney Olympic Park courtesy of our supporter Beyond Bank.
We are also very excited to welcome Beyond Bank to the NSW Demons.


---
An evening with Daisy Pearce
Star-struck young girls and boys were among an enthusiastic crowd of Melbourne Football Club fans who came to see Daisy Pearce talk about life, the universe and the AFL Women's Comp last Thursday night at the Pullman Quay Grand on Sydney Harbour. Despite the classic Sydney views visible from the hotel reception room's windows, all eyes were on Daisy as the iconic Sydney ferries sailed by ignored.
Autographs were signed and some very junior hands shaken before the humble, generous and self-possessed Melbourne Football Club's women's comp captain told the audience of her love for AFL as a kid growing up in the Victorian country town of Bright. Disappointment followed when she reached an age where she could no longer play in games with the boys.  Read more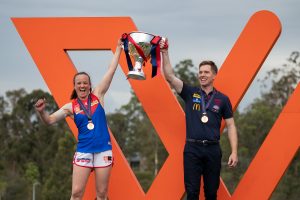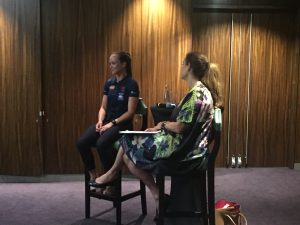 ---
Spring has sprung… Melbourne Demons are the AFLW Premiers!
Nigel Dawe
Watching, and then trying to convey something about a team winning a grand final at any level, let alone your own team's inaugural premiership, at the most elite level – is like seeing a pinata torn wide open from a great height, and then trying to determine which goodie you want to find and explain first.
Well, after seven seasons the AFLW crown has finally gone to the Daisy Pearce-led Melbourne Demons, at a location that few of us had even heard of little more than a fortnight ago… but one now, that none of us will ever forget – Springfield. Read more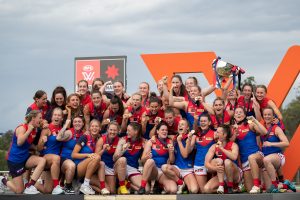 ---
Que Sera, Sera… What will Dee will Dee
Nigel Dawe
Twenty-four times since 1930, the Premiers of one season have failed to make the cut of the following season's finals. As such, the Melbourne Demons of 2022 did not add their name to that ignoble list.
OK, we may have been bundled out of September in two-straight sets thanks to the Swans and the Lions (who deserve praise for grounding our juggernaut to a halt, on our very home turf). But to say our Dees have lost their way would be a gross misrepresentation of the season we had, and where the club is at right now.
Referring to 2022 as 'one that got away', certainly – but any assessment more scathing than that and you need to brush right up on your history and your overall understanding of the game.
---
---
The Cup in Sydney
THE DEMONS' Cup Tour made its way up the highway to Sydney for the NSW Demons to celebrate the premiership win.
Melbourne supporters got up close and personal with the 2021 AFL premiership cup in Sydney on Wednesday 8 December at the Camelia Hotel in Alexandria.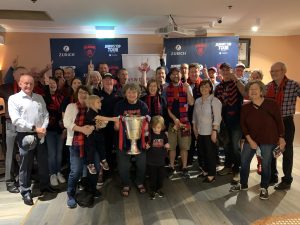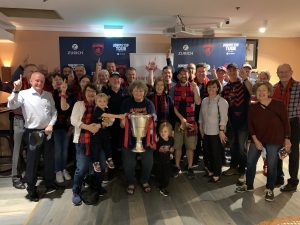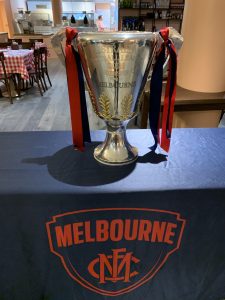 ---

---
Nigel Dawe
FOR someone who has spent pretty much their entire life putting pen to paper, trawling facts, and following the same football team; I don't think I've ever had a more delightful conundrum, than the one regarding how I should best kick off this Melbourne Demons 'premiership-winning' segment.
Initially, I thought I'd lead with cloud 9, then I considered seventh heaven to be more apt, but I've decided to go with, albeit bask in the given – how about – Premiership #13… for the team we love, the team of the red and the blue!
For countless years, I've imagined how seeing and savouring a Dees premiership would feel, having seen so many other clubs 'go all the way' and break their respective droughts… to now be able to say, that I have finally seen us win 'the big dance', I have to further say – it was more sublime, unbelievable and transporting than anything I could have ever remotelyAbove all, it's not that we did it, it was 'the way' we did it, to come from 19 points down halfway through the 'premiership quarter' to finally win by 74 points (the eighth biggest win in grand final history) by booting 16 of the last 17 goals, was the most emphatic and enjoyable way to end our 57-year premiership drought.  Read more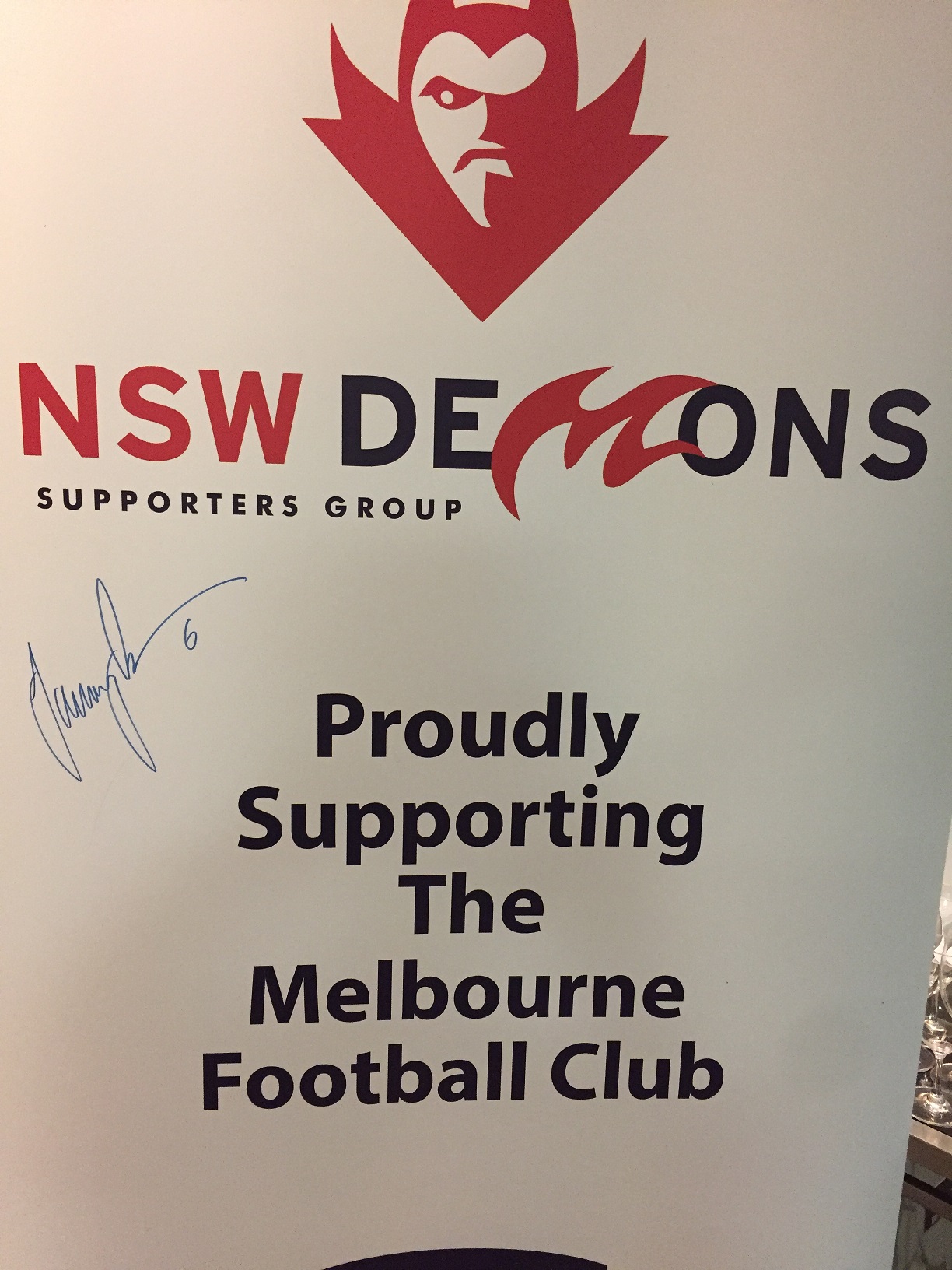 NSW Demons Big Screen venue
​​The Kirribilli Club is the official home of the NSW Demons.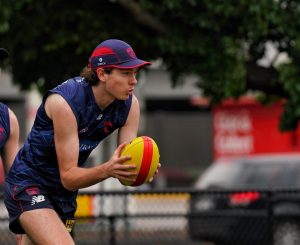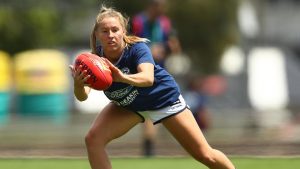 Sponsoring Matthew and Olivia
We are delighted to announce that we are sponsoring Matthew Jefferson and Olivia Purcell in 2023.
Join us in sponsoring Matthew and Olivia and our Premiership teams.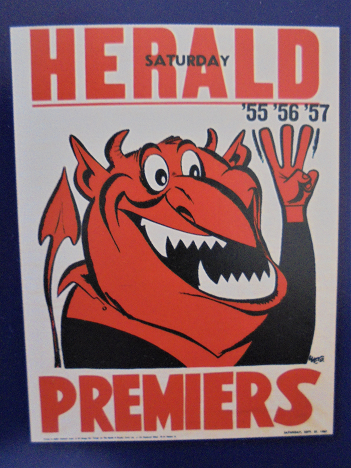 Our stories
NSW Demons dyed-in-the-wool fans
We have some absolute troopers of our own in the ranks of the NSW Demons.  Read the stories here