Past events
NSW Demons lunch – Sunday 19 June 2016
100 Melbourne supporters crowded into the lunch and heard from CEO Peter Jackson, Craig Jennings, the club's game analyst and Sophie and Ryan from the Demon Army.
NSW Demons lunch was hosted by Russell Robertson at the The Bavarian Bier Cafe – Moore Park (next to the SCG)
---
---
---
---
NSW Demons and MFC brunch Sunday 6 April 2014
90 Melbourne supporters enjoyed an entertaining and informative morning with Robbo talking with MFC coaches Jade Rawlings and Ben Mathews and MFC President Glen Bartlett and MFC Board member John Trotter.  The brunch was held at the Novotel Sydney Olympic Park before the game against GWS.
---
NSW Demons brunch – 3 August 2013
90 people joined us in Sydney to hear from Melbourne Football Club CEO Peter Jackson who had a refreshingly direct message – lots of work to do but good signs for the future. Todd Viney and Josh Mahoney spoke of recruiting, player development and the evolution of the footy department. Russell Robertson was the perfect host, interviewer and auctioneer!
Sophie Galer entertained us with a lesson in Cheer Squad Action 101! Newly trained brunch participant were then recruited to the Demon Army and paddies, floggers and big heads got a great work out at the match that afternoon.
More information, photos and video on www.facebook.com/nswdemons
Event Reports
Don McLardy in Sydney – Friday 5th April
by Hardtack
On the evening of Friday the 5th April, we were treated to an informal presentation by the incumbent MFC President Don McLardy, in company with Vice President Guy Jalland and Kelly O'Donnell (recruiting and pro-scouting). Also in attendance were members of the Cordner clan and former Demons player Kevin Dyson.
In a brief update prior to which he insisted no questions would be off limits, but discretion should be exercised if discussing the matters raised, outside "these walls", Don began by stating the bleeding obvious: it has been an interesting couple of weeks handling questions regarding where the club is going, how the club is a disaster, how many supporters have expressed their readiness to simply give up and so on. He agreed that in terms of premierships since our last in 1964 we have been a disaster, but stressed that in that time there have been 13 to 15 different regimes and many unusual issues to deal with; for example, since he and the group came to the club, debt as well as new teams coming into AFL creating a changing landscape, have been at the forefront.
The first task was to make the club financially viable and with the debt demolition and the merging with the Bentleigh club, we have managed to break even in recent years; however, the recently incurred $500k is obviously going to have a major impact and hence we are in for a challenging next couple of years; he stated that this year it would be difficult to break even. Don went on to say that we are very involved in equalisation discussions with the AFL and other clubs and that these discussions have generated a new level of respect between the clubs as they all come to the realisation that they each have their own unique problems that need to be addressed.
Two years ago the club undertook to rebuild all areas of the football department from top to bottom. In the first year we saw a complete overhaul of the coaching department and now we have had a clean out of the playing list – there was a strategic choice to move from a certain type of player. As a regular attendee of training and as someone who spends a lot of time with player leadership group, Don couldn't detect any issues with culture and believes the club is absolutely on the right track. Fitness levels are great and it is considered that we should take a significant step this year.
Sunday against Port was completely unacceptable and there is no easy answer as to why it happened… without the benefit of knowing what was to unfold on Saturday evening against Essendon, Don said that he knows we are not nearly as bad as we showed against Port and that we will definitely respond positively to that performance; we are hell bent on being a competitive unit, and a repeat of what happened against Port will never happen again… he was sure about that.
John Cordner also spoke: "Can I tell a story? In 1951 I played and we won three games, we were bottom… three years earlier we were premiers, but in 1951, we won three. And in 1955 we won the premiership… and the fact is you can turn the thing around. Yeah! You've got to find a good reason, it's a different business now… but it all goes back to the fact that from bottom to top in five years, it can be done."
Don then closed on a more positive note sharing his excitement over Jack Viney and Jack Grimes.
Date:   Friday 5th April
Venue: King St Brewhouse
xxxxxxxxxxxxxxxxxxxxxxxxxxxxxxxxxxxxxxxxxxxxxxxxxxxxxxxxxxxxxxxxxxxxxxxxxxxxxxxxxxxxxxxxxxxxxxxxxxxxxxxxxxxxxxxxxxxxxxxxxxxxxxxxxxxxxxxxxxxxxxxxxxxxxxxxxxxxxxxxxxxx
2012
Well Saturday started off on a perfect note at the NSW Demons Lunch
A beautiful autumn day in Sydney preceded what turned out to be a wonderful NSW Demons function.  A large contingent descended on the Bavarian Cafe in Fox Studios to listen to an amazing array of guest speakers from the inner sanctum of the MFC.  These people gave up their collective valuable time to support the NSW Demons fraternity and the speeches were all extremely enlightening.
Chris Connolly was our MC for the event and gave us a great insight into some of the inequities that currently exist in ground receipts and the hard work the administration of the club has been doing behind the scenes to rectify this and even up the playing field.   Max Gawn spoke of how they were' smashed' during pre-season, life adjusting to the new game plan, how the new leadership group is starting to gel together and how his rehabilitation is coming along.  Don McLardy spoke about our new sponsors and how important it is for supporters to stick with the team and how the whole board has utmost faith in Mark Neeld and the new coaching group.
Finally we had Josh Mahoney and Neil Craig talk about a myriad of topics, from how the players are keeping themselves motivated through goal setting, that morale is surprisingly high and a more thorough insight into our new style of play.  All guest speakers were highly accommodating, answered all questions asked and goes to show that the club does value us up here in the harbour city.  Overall the function was an almighty success.
Melbourne v Sydney on Saturday 19 May 2012 – Game Day Lunch
Are you one of us who bleeds red and blue?
Are you one of us who can't get enough of the mighty Demons?
Are you one of us who would love to be able to catch up with board members and coaches of the Melbourne Football Club and find out the inside story of the club we love and be able to ask the questions you always wanted to ask?
Are you one of us who have always wanted to be able to be on the ground and hold the banner when the Demons run out rubbing shoulders with your idols?
Are you one of us who would love to meet up and chat with fellow Demon tragics?
Are you one of us?
If you are one of us then join us in an extremely limited and exclusive opportunity.
Get up close and personal with current board members and coaches of the MFC – the inner sanctum of the Club, get the unique chance to hold the banner as the Demons run out against the Swans and get the chance to win some other fabulous prizes whilst enjoying a meal and some drinks before the Swans game with die hard Demons supporters.
If you are one of us then join us before the Swans game in Sydney on Saturday 19 May 2012
WHERE: Bavarian Bier Café, Entertainment Quarter, Moore Park
TIME: 11.00am
COST: $60 for adults (includes a 2 course meal), $30 for children under 12
Bookings can be made:
Online at: http://www.trybooking.com/BJOJ
Or
Email to sally@nswdemons.com with your contact details and the number of tickets required and:
*EFT to NSW Demons Sydney, BSB – 112879, Acct No – 474 608 270 (For Payee reference please include your name); or
*Cheque to: Treasurer, NSW Demons Sydney, PO Box 349, Camperdown, NSW 1450
This opportunity is extremely limited to a set number of people and is bound to sell out so if you are one of us make sure you join us.
For more information please contact Sally Trevena on 0409 783 318 or sally@nswdemons.com or go to Events on our website www.nswdemons.com
  Join us at the Cammy to watch the footy!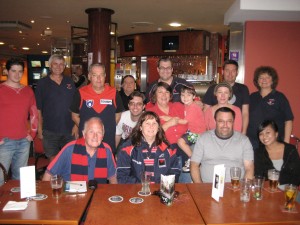 Watch Melbourne on the Big Screen
Watch the Dees with other MFC supporters each weekend on the Big Screen at the Camelia Grove Hotel, 146 Henderson Rd, Alexandria. Ph: 02 9516 5611
MFC in Sydney – Friday 15 April 2011 
MFC coaches Mark Williams and Brian Royal are coming to Sydney especially to talk to you.  All NSW Demons are invited to this special event on Friday 15 April in Sydney at the Castlereagh Hotel.  Here is your opportunity to ask Mark and Brian how will we "press" and overcome the "press", what strategies are in place to reduce turnovers and spend more time in the forward line, who's shining at training and who's stepping up to another level this year?
2010
Chris Connolly, General Manager MFC Football Operations – Sydney Event – Thursday 29 July 2010
The NSW Demons held a Player Sponsor event with Chris Connolly, General Manager Melbourne Football Club Football Operations and Guy Jalland, MFC Vice President in Sydney on Thursday 29 July.
Chris  journeyed to Sydney to talk to the NSW Demons about all aspects of the Melbourne Football Club, both on and off the field.  Chris spoke passionately of the work undertaken to build the club's organization, playing list and community connections.
Guy Jalland, spoke eloquently about the club, the future and the fund raising commitment of the MFC Board including the Foundation Heroes.
It was a thoroughly informative and most enjoyable evening.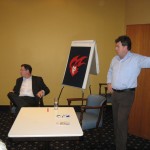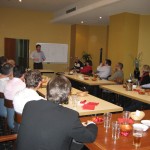 NSW Demon Sydney Event – Chris Connolly and Guy Jalland