Big Maxy
Big Maxy dominant performance, Hogan also was magnificent, Petracca Bugg Garlett and Kent looked dangerous all day
When I was 17 I couldn't wait to get to 18.
---
Darren Spence – our correspondent in Jakarta
---
The ability to get into a pub without dodgy ID, being able to drive and all the freedom that comes along with that. I was so jealous of my mates that were already 18. My 18th birthday couldn't come soon enough. And so it seemed with the Dees on Saturday. The way they started the game they too appeared to be in a hurry to get to 18….18 straight losses to the Roos.
4 goals down before our boys even scored was far from ideal. If I worked for the Melbourne marketing department I would put forward a proposed tag line. Melbourne Football Club…..frustrating die hard fans since 1858. I don't think it would go down too well with them but it is exactly how I was feeling during the game. Once again we allowed a team to tear us apart for portions of the game. I said we needed to play 4 quarters and to hold both Brown and Waite to win…well we didn't achieve all of those but we did manage the win – finally breaking the hoodoo and running out victors by 37 points.
The win was set up in the middle by Big Maxy. A dominant performance with 50 hit outs and 18 possessions, ensuring that we got first use of the ball – clearly winning centre clearances and contested possessions. Hogan also was magnificent. He has had a terrific start to the year and Goodwin has added a string to his bow by playing him in spurts through the middle which is making us all that more dangerous and unpredictable. Petracca likewise continued his great start with 25 disposals and Bugg and Kent looked dangerous all day combining for 7 goals and Garlett also kicked 3. Our spread of goal kickers this year has been impressive and with us leading the points for at this stage of the season I am sure it is going to present further headaches for all teams we come up against.
Talking about coming up against, we have a pivotal next 4 weeks – all against sides hoping to vie for a finals spot this year. Sunday it is the Hawks. Another bogey side of late. I am predicting a close one but I certainly will be confident that we will come home with the points.
LUKEY TAPSCOTT VOTES (Rnd 3)
GAWN 5
HOGAN 4
PETRACCA 3
SALEM 2
BUGG 1
ANB RISING STAR (Rnd 3)
HOGAN 5
PETRACCA 4
SALEM 3
BUGG 2
TYSON 1
LUKEY TAPSCOTT LEADERBOARD
HOGAN 11
GAWN 9
PETRACCA 9
GARLETT 5
JONES 4
OLIVER 4
SALEM 2
BUGG 1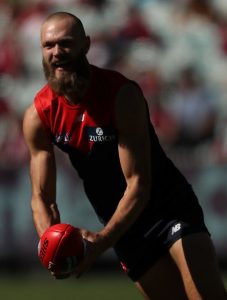 ANB RISING STAR
HOGAN 14
PETRACCA 12
OLIVER 7
TYSON 5
SALEM 3
FRITSCH 2
BUGG 2
HARMES 1
NEAL BULLEN 1
For the 2nd week in a row Hogan could count himself unlucky not to be BOG but he currently holds the lead for both awards. In the ANB Rising Star both himself and Trac have started to open up a gap over the rest of the group but it is still early days.
Go Dees
Comments