Darwin Deliverance For Dees
Round 16 – Melbourne Vs Freemantle – Darwin Deliverance For Dees
Liam Chambers – our correspondent in Coffs Harbour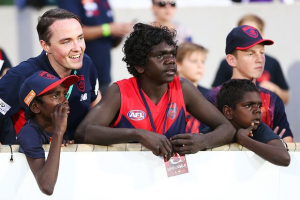 Welcome to the Northern Territory. Hot and a bit humid but always laid back. There was nothing laid back about the Dees performance though. We had to win this game otherwise we would slip out of the top eight and the prospect of finals would sink like a spectacular Darwin sunset. We won every quarter but overall Melbourne was not as convincingly as they needed to be. Twenty four behinds against an injury hit Fremantle was disappointing despite a very good last quarter from the Dees.
However, having said that, I think Melbourne played more as a team than they have all season. That sounds strange considering some of the winning margins they racked up against the likes of Adelaide and the Bulldogs. They defended and tackled decisively and there was a strong sense of camaraderie amongst the players. Eleven team members scored goals and that's inspiring.
I may have been overly generous last week when I said Petracca played one of his best games of the season; he definitely performed well against the Dockers though. Once he starts scoring consistently he's going to be unstoppable. Jeff Garlett came back and worried the Freemantle goal but unfortunately only scored once. Maxy Gawn did his party peace missing a sitter directly in front of goal but then scoring from 40 plus metres out and on an angle. Clayton Oliver prove his dexterity with the ball yet again and got 2 goals in his fiftieth game for Melbourne. Neville Jetta played his fiftieth consecutive game for the Dees and was integral as always, despite a few wayward kicks to the opposition.
Jesse Hogan was inconsistent again in front of goal. He has thirty six goals so far this season but he should have had more against Freo, missing some in the first quarter you would think were in the bag. I'm not sure if it's a confidence issue with Jesse but he has yet to realise his true potential. Jones sent a spectacular shot through the goal posts to inspire the troops and Jack Viney ran himself into the ground. Brayshaw was again superb and even found time to have a punch up with his brother. Christian Salem was almost omnipotent, seemly appearing in several places at once.
With a wealth of talent, including young guns Spargo and Fritsch we shouldn't be afraid of any team. Harmes, Neal-Bullen, Tom McDonald and Melksham can score a swathe of goals on a given day but we need to find that consistency. Sam Frost was a revelation. We need him to play like that week on week and our defence will be sound.
Next we play the Western Bulldogs again. They will want revenge for the 49 point win we secured in round eleven. They beat Geelong in round fifteen so they are still a dangerous side. If we played like we did in Darwin then we will be very hard to beat. Just how well we can win depends on how well we hone our accuracy in front of goal.



MELBOURNE 2.9 5.15 9.18 13.24 (102)
FREMANTLE 2.0 4.2 6.5 7.6 (48)
GOALS
Melbourne: Oliver 2, Hogan 2, Melksham, Jones, Garlett, T.McDonald, Salem, Gawn, Spargo, Harmes, Neal-Bullen
Fremantle: Cox 2, Sheridan 2, Walters 2, Mundy
Comments