Dogs Derail Dees' Dream Run
AFLW Round 4 – Western Bulldogs V Melbourne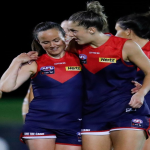 Liam Chambers
It was good to see a big crowd at Whitten Oval for such an important game. Melbourne started well, corralling the Bulldogs inside their defensive 50. Tyla Hanks continued her recent good form, turning and kicking accurately, picking out her teammates almost instinctively. Eden Zanker was kicking long but not as cleanly as she'd like; only picking up minor scores from her set shots. The Dees were unable to capitalise on their chances when they had their rivals on the defensive.
Then against the run of play, the Dogs pushed forward towards Melbourne's goal and Kirsten McLeod was able score their first from a set shot. The Dees were lacking the co-ordination they displayed in their first three games but there was still some encouraging displays with Shelley Scott marking well. However, it was another veteran in Karen Paxman who opened the scoring. When Eden Zanker tumbled while marking the ball, Paxman was able to scoop it up and score with a driving kick from 35m out.
The Dogs continued to soak up Melbourne's pressure and show a high level of efficiency when marking and kicking. They would have been happy with their performance against the wind. The Dees were tackling hard and defending well but their accuracy kept letting them down. When a huge kick from Shelley Scott was marked by Alyssa Bannan to the right of the goal post, her shot was quickly taken and sent wide. From last week's at times meteoric performance, the Dees were often mediocre against the Dogs.
With ten inside 50s to one, we were ruing our missed opportunities. Melbourne continued to dominate but again struggled for any reward. However, Daisy Pearce was getting down and dirty in defence smothering the attack Dogs. While our opponents were conceding free kicks willy-nilly we were unable to take advantage of their errors.
Our midfield was shutting down the Dogs' charges with Hanks tackling hard and able to scoop up the ball on the run as well as showing great vision. However, our set shots continued to miss the target. We were only able to add a couple of minor scores to our overall tally. When we put a good run of play together, it was inevitably frustrated with another behind to add to the growing stack.
When the Bulldogs scored their second, it was again against the run of play. Jessica Fitzgerald having earlier missed a set shot was able to grab the bouncing sherrin and snap it through for the Dogs' second. Maddie Gay was having a good game but her set shot at the end of the term was off target. With the total of inside 50s now twenty one to three in Melbourne's favour, our lack of conversion was discouraging. When the Round 5 fixtures were announced during the half time break, our game against the Dogs suddenly took on a whole new importance. We would be playing the unbeaten Pies at their Victoria Park home ground next week. No pressure then.
With the Bulldogs now going on the offensive and taking the game to Melbourne, we had to find a way to break through and gets the major scores on the board. Unfortunately, it was the Dogs who broke through again with Issy Huntington kicking cleanly for their third goal. The Dees were chasing now and needed to score quickly. Luckily a dropped mark by Tegan Cunningham spilled to Shelley Scott, who collected the crumb and snapped superbly.
Scott's goal inspired Melbourne to push harder and last week's hero Jacqui Parry also snapped at goal but sent her shot wide for another minor. The point brought the teams level on the scoreboard. The joy was short lived however when Huntington launch a forceful kick from thirty five metres out which rolled between the uprights after a favourable bounce.
While the Dees were searching for answers, the Dogs were growing in confidence which wouldn't have been dented by Niamh McEvoy's miss after the siren. The ten scoring shots to five in the Dees' favour, showed how efficient the Dogs had been in front of goal all afternoon. They would come into the final quarter knowing it was their match to lose.
Melbourne only trailed by five points but the psychological gap was infinitely wider. Showing skill and creativity, Tyla Hanks handballed over to Maddie Gay who turned and kicked beautifully to Lily Mithen who gathered the mark. However the ensuing kick was inaccurate and wasted, showing it was just not happening for the Dees. When Tegan Cunningham kick behind for Melbourne's ninth minor point, we all felt the pain.
That pain became even more acute when Ellie Blackburn took advantage at the other end to kick a running goal and stretch the margin to ten points. Karen Paxman almost dribbled one through when a diving save, soccer style, by defender Ashleigh Guest spoiled the celebrations. Paxman threw her head back to look up at the heavens and ask "what do I have to do?!"
Then with their tails up, it was all the Dogs. Melbourne was struggling to look like a contenders, especially when Jessica Fitzgerald got her second and the Dogs' sixth to put the result beyond any doubt. In their previous encounters this season, The Dees have found a way to win, even when being subjected to extreme pressure from the Roos in last week's epic encounter. I don't know why we couldn't put away our chances against the Dogs but it really hurts us in the first three quarters.
By the final term, the Dogs had grown so much in self belief that it would have taken a super human effort for Melbourne to prevail. I'm sure Kate Hore's absence had an affect but it doesn't fully explain our below par performance. I often wonder why we play better as the underdogs? Possibly less expectation. If that's true, then we should play brilliantly against Collingwood on Sunday.
Go the Mighty Dees!!!
Comments