Go the Fuchsias, er Redlegs, er Demons
Talk about cloud 9!! (you must be too), what a fortnight (well month really) it's more than a shade or so of '87 all over again – and is it just me but that #2 on our captain's back, it puts the hair on the back of my neck on end… I feel like one of those frogs that has lain dormant for years in the desert & then there's a downpour of rain & whammo – I've broken the surface now fully brought back to life and croaking like mad.
by Nigel Dawe
I'm actually related to Kevin Sheedy (and as such many in my family actually go for either the bombers or GWS) but its been the Dees for me ever since I saw and was sold on our mercurial #2 back in the early '80s – and I've been absolutely 'on-board' ever since, from getting in touch with Fred Fanning in the early '90s to get his autograph to going without 4 of my 5 food groups for about 12 months while I was at uni so as to afford an original 1875 etching of an early Melbourne vs Carlton match from an antique print gallery in Sydney once.
I've just so loved the journey, my highlight (after seeing us make 2 grand finals and actually win a reserves 'Big One' in '93 against the then Bears, which I still have tucked away somewhere on VHS) was winning the writing comp back in 2001 for our 'Hall of Fame' and who should be the inaugural legend – silly question when you have the likes of the coach of the century to choose from…
But so many memories and magical experiences to draw upon, I used to be great friends with Tiger Ridley (before he passed away) and I'll never forget the day he got me into the rooms after a game against Richmond at the 'G to see and sing along to A Grand Old Flag and personally meet my hero in Big Jimmy…
Not to mention the starry night I sat watching the boys at the SCG some years ago and turned to the bloke sitting next to me after mulling as to whether I should or shouldn't I – but "excuse me, you look awfully like the great Dr Don Cordner" and as such it turned out to be his younger brother John who then said "I only played 6 games but wore the famous #21 straight after my brother retired" to which I replied "Well that's definitely 6 more than me!!" and we then shared a laugh at how his 'other' brother Denis said to a young Barassi when he asked him before his first ever game "where do you want me to go?" – & he famously barked – "I don't care, just stay out of my bloody way!!"
My house is already decked out with red & blue streamers and about 10 different Melbourne gurnseys that I've 'acquired' over the years (the most recent being our 160th number that even has my name on it (directly below the AFL logo about 3/4s the way down), I've even brought my prized and near-on mint condition 1964 Grand Final Record out of 'storage' and have it pride of place next to the TV for luck 🙂
Should we get beyond next week I'll be bringing out my 'big gun' – a 1960 Norm Smith autographed premiership booklet… But as the saying goes – 'one week at a time' … and daring now to dream, ah perchance to dream, should we proceed from there I might just put on 'stand-alone' display my treasured Ivor Warne-Smith cigarette card.
I have a 5 year old daughter which I'll be 'formally' inducting into the Demons fold come this Friday circa 7.50pm-ish.  I can't wait to share the thrill of seeing them run out and have a red hot go… It's just such a buzz to be back in the thick of September once again! & it so doesn't feel like 12 years since we last savoured such a thing…Unfortunately I can't get down to Melbourne this week, I actually live in Grafton, NSW and can't make the trip to the 'G because of work commitments, but like countless other fans I will be there in spirit, the 'Spirit of '26', riding every bump and feeling every blow.
Hope we meet one day, please pass on my appreciation to the crew for their creative efforts once again and well done!!
Go the Fuschias, er Redlegs, er Demons, – or the oldest and only football team in the world to play a sport which they actually created over a few beers in a pub all those years ago.
All the very best,
Nigel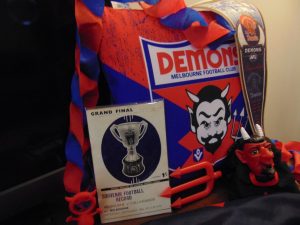 Comments