Gurus End The Hoodoo
Round 3  – Melbourne Vs North Melbourne and the Gurus End The Hoodoo
---
Liam Chambers – our correspondent in Coffs Harbour
---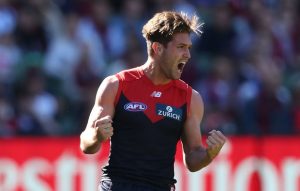 Finally we beat the Roos after 17 attempts. Last year I cried twice into my beer wondering how we succumbed on the field when on paper we should have been the victors. However, I am realising with each passing week that The Demons of 2018 are a completely different team. Max Gawn started making amends last week but he really stepped up on Saturday when he was man of the match.
North Melbourne started furiously and threw everything at the Dees. Cunnington opened the scoring for the Roos followed by Waite & Brown all in the first ten minutes. Then Waite scored again before The Redemption Man Thomas Bugg kicked one for the Dees to calm the nerves. Dean Kent slotted one home two minutes later to make things look a bit more respectable. However, North
Melbourne kept up the pressure with Goldstein kicking their 5th goal. A few behinds then Bugg steps up to score his 2nd. The Dees go in at quarter time trailing 33-20.
Early goals by Fritsch & Vince ease the pressure. Gawn is impressive, easily gaining the upper hand in the ruck. A goal by Billy Hartung reminds the Dees not to get too carried away though. A couple of minutes later sees Jessie Hogan score, then a lovely bit of play by Garlett gives Melbourne their 4th of the quarter to lead by 7 points. Successive goals from Bugg and Petracca add to the tally before Simpkin & Brown hit back for the Roos. Half time score is 61-52 in favour of Melbourne.
Early in the third quarter, Dean Kent scores his 2nd. The Dees are again dominant but are unable to add much to the scoreboard before Ben Brown kicks 2 goals in 3 minutes to upset the momentum. Hogan though is not at his best and misses again for a behind. Garlett makes no mistake with his effort and when Kent scores again things are looking up with Melbourne taking a 19 points lead into the final quarter.
You know it will be a special afternoon when Jordan Lewis scores a goal. A few concerns though when Jetta and Gawn go off to receive treatment. Then Waite gets his 3rd for the Roos and a nervous few minutes ensue until Jeff Garlett slots home his 2nd. Bugg fully made amends when he kicked his 4th putting Melbourne in a more comfortable position going into the final 10 minutes. A goal from Jones looked like sealing the deal but a Cunnington reply 2 minutes later still had fans anxious. 2 goals in the final 3 minutes from Clayton Oliver though puts the icing on the cake. Melbourne win by 123 to 86 but ticking off this milestone is another reason to believe The Dees will be playing finals come September.
MELBOURNE 3.2 9.7 12.13 18.15 (123)
NORTH MELBOURNE 5.3 8.4 10.6 13.8 (86)
GOALS
Melbourne: Bugg 4, Kent, Garlett 3, Oliver 2, Hogan, Petracca, Vince, Fritsch, Lewis, Jones
North Melbourne: Brown 4, Waite 3, Cunnington 2, Goldstein, Hartung, Simpkin, Ziebell
BEST
Melbourne: Gawn, Hogan, Petracca, Lewis, Salem, Kent
North Melbourne: Cunnington, Brown, Higgins, McDonald, Dumont
Comments