Hawk The Slayer
Round 4 Hawthorn Vs Melbourne, Hawk The Slayer, Spandau Ballet
---
Liam Chambers – our correspondent in Coffs Harbour
---
Not being a Spandau Ballet fan, I don't usually quote their lyrics but "Why do I find it hard to write the next line?" seems apt in the circumstances. We lost badly on Sunday. There must be positives to take away from the game but they're not overly obvious at the moment.
After our performances of the last three weeks, we should have been very competitive against the Hawks but unfortunately it was not to be. The Dees have been criticised in the past for not bringing their best game to each quarter but this time they only played for the first thirty minutes and then sort of went missing in action for the rest of the match.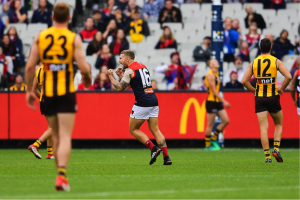 The Hawks opened the scoring with a Luke Breust kick, then Jessie Hogan missed for a behind. Back to back goals from Dean Kent looked very promising for the Dees but the goal hero of last week Thomas Bugg was off target with his first attempt. It look like it was going to be Hogan's afternoon with a superb goal on the run from over 40 metres out. Then another from Kent saw him seal his hat trick. After this exciting start, it was a series of behinds before Gunston scored for Hawthorn.
Then if you wanted an ominous omen it was provided by the great Max Gawn. Having taken a brilliant mark he was unable to convert from his kick 20 metres out in front of goal. That kick was of course reminiscent of Gawny's miss in the final minute of the opening game against Geelong. A goal from Salem five minutes from quarter time showed the Dees were back in control. Then a goal three minutes later from Breust meant Melbourne went in just 35–22 ahead when it could have been a 20 point lead.
The second quarter started badly for the Dees with a third from Breust. Again Bugg kicked a behind that he would have nailed last week. With the Dees yet to kick a goal in the quarter, the Hawks got their second with a soccer kick from Puopolo.
Then the Demon's misery was compounded with a goal from Henderson putting Hawthorn in the lead. Another goal from Roughead was followed by a disappointing behind from Melbourne's Jeff Garlett. Even the early exit of the great Cyril Rioli and the heavier rain couldn't dampen the Hawk's spirit. The half time score was 47-39.
It was a similar story in the third quarter with O'Meara opening the scoring for Hawthorn with another soccer kick. Then a goal from 15m out for Isaac Smith made the Dees job that much harder. Another behind from Bugg just seemed to signal it was not going to be the Demon's day especially when Neville Jedda went off due to injury. Goals from O'Brien and Smith put a Dee's victory further out of reach.
When the triple hero of the first quarter Dean Kent kicked a behind all I could think was "of course". By now Melbourne had failed to score a goal since the 29th minute. It was a relief when the siren went for the end of the third quarter and the Dees hadn't conceded any more goals. Three quarter time score was 73-41.
Surely Melbourne could grab a few goals and reduce the margin to a more respectable 10 or 15 points.It was not to be however when Gunston scored his second in the fifth minute. Neal-Bullen did give a brief flutter of hope in the eight minute with a goal to inspire the Demon Army.
They couldn't follow it up however and Roughead scored again four minutes later.Then three goals in just three minutes from O'Brien, O'Meara and Roughead twisted the knife that bit deeper. O'Brien then scored his second and Breust scored his fourth to round out the quarter. The final score was 115-48. This was definitely a Melbourne game to forget and one they won't want to repeat.
Here's hoping I quote another Spandau Ballet line next week "You've got the power to know, You're indestructible" when we flog the Tigers.
HAWTHORN 3.5 7.5 11.7 18.7 (115) MELBOURNE 5.5 5.9 5.11 6.12 (48) GOALS Hawthorn: Breust 4, Roughead 3, O'Brien 3, O'Meara 2, Smith 2, Gunston 2, Puopolo, Henderson Melbourne: Kent 3, Hogan, Salem, Neal-Bullen
Comments