Jack's 100th, Angus and Christian both in the team
Jack Grimes
The NSW Demons are celebrating the successful return of Jack Grimes, one of our favorite players, who will play his 100th game for the Melbourne Football Club this Sunday.
There is no more committed and tenacious player at the club than Jack Grimes. We will enjoy supporting him as he runs out to play his 100th game for his beloved Dees.  We supporters often look to other clubs and identify players who have that fighting spirit and love of their club – and think that we would love to have them at our club. But sometimes we overlook the talent and dedication in our own back yard and take for granted the desire that these players bring to the club day in and day out.  We salute you Jack Grimes.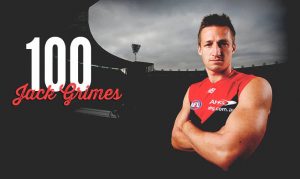 Angus and Christian
This Sunday we will also be treated to watch two emerging talents ply their trade together for the first time since the U18s. Angus Brayshaw and Christian Petracca after various injury woes are at last selected in the same team for the game against St Kilda. I'm looking forward to seeing the teamwork they both displayed at U18 level emerge over the next decade as part of the developing dynamic Dees midfield.
If you cannot be at Docklands to watch this game then join us at the Cammy to watch the game on the big screen on Sunday  17 July at 3.20 pm.
Go Dees
Sally
NSW Demons
Comments