Melbourne vs Fremantle – Down to the Wire
AFLW Dees v Freo review from our newly recruited Arm Chair Member – Liam Chambers
————————————————————
 Liam Chambers
————————————————————
Down to the wire – it was supposed to be the Demons Day which would have seen us perched on top the AFLW ladder, being the only team to win their first three games. Unfortunately, the day was upset by a talented debutant called Emily McGuire & some inspired play by Freo defender Ebony Antonio.
That said our players show heaps of character and can take away many pluses from their inspired fightback when they looked down & out.
The first quarter was all the Demons, keeping the Dockers scoreless with Cunningham kicking the only goal of the opener. Her star performance from last week didn't translate as well to Perth. She was unable to mark as effectively with her kicking perhaps showing the pressure of expectation. Some wayward shots at goal from Katherine Smith and Jasmine Grierson were opportunities lost (six scoring shots to nil), for Melbourne to seal the win in the first 15 minutes.
Though Daisy Pearce (23 possessions for the game) led like the great Captain she is, the Dees midfield didn't fire in the second quarter. Fremantle's Kara Donnellan (18 possessions) dragged her side back into the game and the Dockers took a one-point lead into half-time after Ebony Antonio launched a near-50m stunner to add to McGuire's first goal. The highlight for Demon's fans was when Daisy's fended off the Docker's Mascall with a classic Dustin Martin inspired "don't argue" as she steamed towards the 50m line. It was a scoreless quarter for Melbourne though.
It looked very grim for the Dees midway through the 3rd quarter as Freo surged to a 13-point lead with two successive goals. However, Melbourne show their true fighting spirit with goals from Cunningham, Newman & Paxman to deliver a 6-point lead to our Girls. Newman's goal in particular show the how great the Demons can play as a team when Cranston swooped, took a bounce and kicked the ball long, allowing Newman to chase & soccer kick it between the main uprights.
Fremantle kicked the first goal of the final quarter to level the scores & the Dee's misery was compounded when McGuire kicked her second to make it 36 to 30 in the Docker's favor. Melbourne then kicked a messy behind & the away fans were on the edge of their seats when an inspired bit of play in the last-minute saw Elise O'Dea take a mark 30 metres from goal. However, the resultant kick was wide and the siren sounded shortly afterwards.
There are many positives to take away from our trip to Perth and it will stand our players in good stead when they travel to Alice Springs next weekend to take on the winless Magpies.
Cat Phillip's ankle injury is a concern but we wish her a speedy recovery & hope to see her in the Alice on Saturday.
First quarter: Melbourne 1.5 (11) to Fremantle 0.0 (0)
Second quarter: Fremantle 2.0 (12) to Melbourne 1.5 (11)
Third quarter: Melbourne 4.6 (30) to Fremantle 4.0 (24)
Final quarter: Fremantle 6.0 (36) d Melbourne 4.7 (31)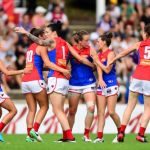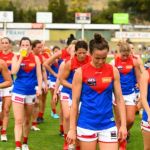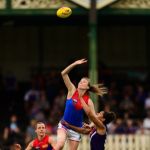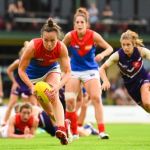 Comments