Something To Crow About
Round 19 – Adelaide Crows Vs Melbourne – Something To Crow About
by Liam Chambers 
Admit it, the thirty two minutes and thirty one seconds of the last quarter was almost certainly the longest of your life. I know they were for me. Visions of last week's game kept forcing their way into my consciousness no matter how hard I tried to ignore, suppress and block them. When Eddie Betts hit the post with just under two minutes to go I almost wept with relief. Then, with Alex Neal-Bullen's goal sixty seconds later, the realisation that we had won was almost sublime; I may even have had an out of body experience.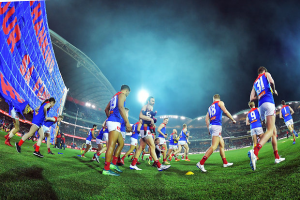 The Dees won the game with an almost perfect display of football in the third quarter (eerily similar to last week). Suddenly we were winning after trailing the Crows for the first half. Goals from Jordan Lewis (brilliant in his 300th AFL game), Jake Melksham (again pivotal), Bayley Fritsch (rising legend), Jay Kennedy Harris (starting to really get into his stride), Tom McDonald (quickly gaining on Jesse as top scorer), Jeff Garlett (cementing his place after his sojourn at Casey) and Jesse Hogan (apart from his knee, hip and ankle, he's in fine fettle). Maybe a week off for Jesse next week to give himself a chance to fully recover?
Undoubtedly the win against Adelaide was essential. If we'd lost, then the chances of recovery would have been minimal. The psychological blow would almost certainly have been fatal. To lose again in the last quarter with a commanding lead would have been devastating for players and fans alike. The Crows played as good as they have all season. Remember they beat Geelong only two weeks ago at the same venue. It was a great win, in a very hostile environment. The concern is that the Crows were able to get so close but I believe we did learn from last week and managed to look convincing in the end.
Again, I'm amazed at the depth of talent at Melbourne. Once we learn how to consistently play like we did in the third quarter then we won't have to fear any opposition. Clayton Oliver again showed his brilliance and the news that Angus Brayshaw has signed for four more years is hugely encouraging. A lot of other teams have shown a keen interest in signing the talented midfielder. Max Gawn showed how important he is to player morale. He is able to inspire and has the great gift of communication though his theatrical fall may not have impressed too many fans. Surely we can forgive him that one indiscretion though and maybe he really did lose his balance.
Next week we play the Gold Coast Suns at the MCG. Just because they lost to Carlton this week doesn't mean it'll be a given that we secure another four points. The Suns beat the Sydney Swans last week. Sydney may be on the wane with an injured Buddy Franklin but we undermine either side at our peril. For the moment though, I for one will cherish this week's result and the grand old flag.
ADELAIDE 4.4 6.8 7.10 10.17 (77)
MELBOURNE 3.1 5.7 12.11 13.12 (90)
GOALS
Adelaide: Greenwood 2, Betts 2, Seedsman, Gibbs, Murphy, Atkins, Gallucci, Walker
Melbourne: T. McDonald 3, Lewis 2, Melksham 2, Fritsch 2, Kennedy Harris, Jetta, Hogan, Neal-Bullen.
Comments