T Mac Attacks but Dees Denied – Melbourne v Collingwood
Round 12 – Melbourne V Collingwood – T Mac Attacks but Dees Denied
Liam Chambers – our correspondent in Coffs Harbour
It had to happen eventually. Why did it have to happen against Collingwood though? The main positive was the performance of Tom McDonald. Unfortunately, the Pies outplayed Melbourne for most of the game. We lost by 42 points but it could have been much worse. Half way through the last quarter we were staring down the barrel of a 70 plus rout. Plenty of time to reflect over the next couple of weeks. Simon may want to tweak his game plan a bit. I'm sure he'll be watching the replay a few times before we take on Port in Round 14. Let's not forget though that the fans raised a huge amount for Neale Daniher's Big Freeze.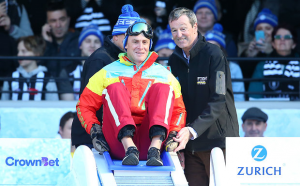 Mason Cox opened the scoring in what was an ominous sign of things to come. Mitch Hannan's goal a minute later though seemed to indicate it would be a fairly even game. However, it was all the Pies for the next twenty minutes with Jaidyn Stephenson, Will Hoskin-Elliot, Mason Cox and Josh Thomas all scoring before T Mac got one back for the Dees.
With the scores at 12-35 at the start of the second quarter, Demon fans could have been forgiven for thinking that James Harmes' goal was a turning point. This was enforced a minute later when Mitch Hannan repeated his feat from the first quarter. Melbourne seemed to be closing the gap rapidly but then Scott Pendlebury scored for the Pies and the margin was back out to seventeen points. However, the brilliant Bayley Fritsch then raised our spirits and when Alex Neal-Bullen scored in the fifteenth minute, there was much rejoicing as the margin was reduced to five points. Melbourne's afternoon seemed to be a constant battle as Collingwood kicked two unanswered goals from Stephenson and Hoskins-Elliot. I have to admit I covered my eyes initially when Max Gawn marked the ball thirty metres from the Pies' goal. Then I thought if he has the courage to kick this, I have the courage to look. Thankfully the big man kicked it true and steady. Unfortunately, as happened so many times today, Collingwood hit back almost immediately. This time it was Josh Thomas. The half time margin was slightly better for the Dees at nineteen points. Still plenty of time.
We needed a perfect start to the second half but it was the Magpies who scored first with another Mason Cox goal. Tom McDonald stepped up to score his second but yet again Collinwood hit back; this time via Josh Thomas, compounded a minute later with another Stephenson goal. The determined Jack Viney got one back for Melbourne just as Oscar McDonald went off injured. Even that goal scoring machine Jesse Hogan couldn't save the day as he kicked a behind from a normally guaranteed goal. Again, it was Tom, scoring his third goal that gave us hope. Then the Pies hit back yet again. McDonald kicked his fourth only for Collingwood to kick another two (Mason Cox and Brody Mihocek) before the siren.
With the margin at thirty points Melbourne needed to do something special and quickly. It was not to be as behinds from Charlie Spargo and Angus Brayshaw were followed by another Pies' goal from Mason Cox (didn't he like the climate in the States?). Back to back goals from Taylor Adams stretched the Magpies' lead and it looked like becoming very nasty for the Dees. Luckily Tom McDonald wasn't finished and his fifth gave us hope we could lessen the impact in defeat. Goals from Treloar and Hoskins-Elliot then push the margin back out but Tom wouldn't give up. He sixth goal was bittersweet and the inevitable reply goal from Stevenson was cancelled out by Clayton Oliver's only goal of the day.
As Simon Goodwin said in the post-match interview, you've got to ignore the noise. All the commentators were saying he was out coached by Nathan Buckley and that may be true but remember how many of the same voices were calling for Buckley's head last season. Stick with it Simon and we'll come back stronger than ever against Port Adelaide.
MELBOURNE 2.0 7.2 11.5 14.7 (91)
COLLINGWOOD 5.5 9.9 15.11 20.13 (133)
GOALS
Melbourne: T. McDonald 6, Hannan 2, Harmes, Fritsch, Neal-Bullen, Gawn, Viney, Oliver
Collingwood: Cox 5, Hoskin-Elliott 4, Stephenson 4, Thomas 3, Pendlebury, Mihocek, Adams, Treloar
Comments