The Eagle Has Landed (For The Demons)
Round 22 – West Coast Eagles Vs Melbourne – The Eagle Has Landed (For The Demons)
By Liam Chambers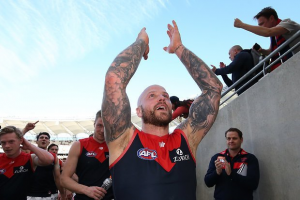 Well, we finally beat a top eight side. Not only that but we beat a top two side and we did it at one of the most difficult and hostile home grounds in the country.
One enduring memory of my three years in Perth was how parochial their sporting fans can be. When you have fifty thousand plus Eagles fans baying for the opposition's blood it can be a tad unsettling. Melbourne handled the pressure well and didn't buckle as they would have done in previous seasons. This was a huge game for the Dees not only because it secured a top eight berth but also because they proved to themselves that they can win the tight games against quality sides.
The disappointment and frustration of losing by two points to Geelong twice (!) and battling valiantly again Port Adelaide only to be ten points behind on the siren. Even last week when we mounted a spirited comeback against the Swans in the latter part of the final quarter, we couldn't quite make it over the line. Then at Optus Stadium, as West Coast took the lead by a single point with twelve minutes to play, you could be forgiven for thinking the finals dream was slowly ebbing away.
Three goals in just over six minutes for the Demons changed all that. First Jake Melksham, then Dean Kent, then Melksham again put the result beyond doubt. Finally the Melbourne faithful had something to celebrate. The joy on Nathan Jones' face was a sight that will live in Dee's fans memories for a long time. He was expressing what we were all feeling. The long drought was over. The years of humiliating losses and the slow climb back to being a competitive team were forgotten the instant siren sounded.
Melbourne has made the finals. There's still a long way to go and there may be more upsets to come. The Dees have been playing better as a team this year and are now starting to believe in themselves. Last week was billed as a must win game and they struggled to find a way to defeat the Swans. In Perth the expectations on Melbourne were greatly reduced and it freed the players up to just go for it.
From the opening bounce the Demons were determined to take the game to the Eagles and when the inevitable pushback came they handled it well. The third quarter was especially eventful but Melbourne didn't panic and there was a calmness to the team. Christian Salem typified the attitude with some clever passing in tight circumstances. Jake Melksham was again pivotal with four goals and Weideman was impressive; he will be crucial now that Jesse Hogan is out. Harmes and Brayshaw were inspiring and Tom McDonald is kicking better. Next week we play the Giants at the MCG. A win could possibly see us secure a top four spot. Now that would be interesting.
WEST COAST 3.0 5.4 11.6 14.7 (91)
MELBOURNE 4.4 7.6 12.8 16.12 (108)
GOALS
West Coast: Rioli 3, Hutchings 2, Masten, Ah Chee, Cripps, Vardy, Sheed, Yeo, Venebles, LeCras, Ryan
Melbourne: Melksham 4, McDonald 3, Hannan 3, Weideman, Harmes, Brayshaw, vandenBerg, Jones, Kent
Comments