They Might Be Giants But The Dees Stood Taller
Round 5 GWS vs Melbourne
They Might Be Giants But The Dees Stood Taller
Liam Chambers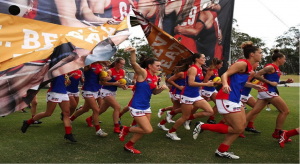 Another hot and humid afternoon. GWS had the home advantage but Melbourne looked better on paper. After last week's narrow loss to undefeated North Melbourne, a win against the Giants was crucial to remain in contention for a finals spot.
It was a positive start for the Dees with Kate Hore kicking to an unmarked Tegan Cunningham inside the Giant's 50. GWS were determined not to be over awed by Melbourne and applied pressure with some good kicking and marking. Meg Downie was solid in defence taking some nice marks.
A Bianca Jacobson kick to Cunningham in front of goal saw Tegan fail to convert the six points. Then Lauren Pearce got a free kick plus a 50 metre penalty to kick the first goal.
The Giants, who had some chances, finally scored courtesy of Christina Benardi. Unfortunately Meg Downie sustained a head injury and went to the sidelines to recover. The Dees played a good defensive game and Lily Mithen made some courageous tackles. Quarter time score all even at 8-8.
Another good opener by Melbourne in the second quarter. Kate Hore again kicked to Cunningham. This time the ball bounced high in front of goal. Tegan was able to protect her space before kicking the ball into goal. Maddi Gay had a shot on goal from just inside 50. She had the distance but was just wide of goal.
Next Jacobson again kicks well. This time to Eden Zanker who marked it safely and scored another six. The Dees showed not sign of letting up and their tackling was ferocious at times. Tyla Hanks showed why she is so valuable to Melbourne. Maddi Gay missed another set shot and GWS would be thankful not to be going in further behind at half time. 9-25.
Again a great start for Melbourne in the second half. Kate Hore was tackled high then free kicked to Shelley Scott who got it to Tegan. A great kick from 40 metres out saw Cunningham get her second. Melbourne continued their good defending. Lily Mithen was again tackling fiercely.
Shelly Scott had an opportunity to run and score but was under pressure with players in pursuit. She fumbled and kicked wide. Jacinta Barkley finally scored the Giant's first goal in two quarters. Christina Bernardi missed a set shot on goal after the siren. With Melbourne leading by 17 points going into the final quarter they had the momentum.
Maddi Gay finally scored from a free kick in front of goal. GWS was applying tremendous pressure with Melbourne defending desperately. Shelly Scott finally managed to gain some ground back into the Giant's half but GWS hit back again. Melbourne was finding it difficult to get out of its own half.
Karen Paxman had a chance but GWS applied some great pressure to deny her. Then Tyla Hanks kicked a free to Tegan who got her hat trick from the resulting mark. That was her second from 40 metres out and shows how accurate her set shots have become.
Another free kick by Hore to Jacobson saw the ball bounce just outside the goal line. The super fit Paxman grabbed the ball as it descended and tapped it over for her first and Melbourne's seventh goal. Right at the end, Tyla Hanks got a free kick plus a 50 metre penalty to make it 18-57 in the Dee's favour.
As is the game of footy, the other results from Conference A didn't go Melbourne's way. A win for the Crows and Freo mean we have to secure maximum points from our last two games. Our percentage is superior so we have a good chance of making the finals.
Two very tough games ahead though, especially the Adelaide encounter but we've been highly consistent this season and deserve to get the results.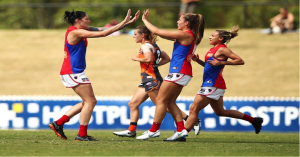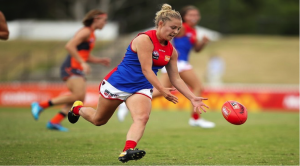 Comments