Way of the Demons (or How to Answer Your Critics) – Essendon v Melbourne
Round 6 – Essendon Vs Melbourne – Way of the Demons (or How to Answer Your Critics) – Max "Banana Kick" Gawn is adding to his folk legend status – Tom MacDonald showed what an asset he is to Melbourne – Spargo's sparkling debut

Little by little Max "Banana Kick" Gawn is adding to his folk legend status. This week he channeled the great Eddie Betts when the big fellow put the Sherrin through the uprights from a seemingly impossible angle! Not once but twice! The second time he had some assistance from the sidelines in the shape of a helpful Essendon fan. They do say that the best revenge is kicking well. It looks like Max also picked up some tips from Eddie on how to handle idiot opposition fans.
At the start of the quarter, the Bombers looked determined to dominate a Melbourne side recovering from back to back defeats. They finally broke through the Demon defence in the 12th minute with a goal from Smith. The Dees got their first five minutes later when Mitch Hannan slotted one home, ably assisted by Christian Salem. However Essendon extended their lead when McDonald-Tipungwuti added his impressive moniker to the score sheet. The first quarter was a low scoring affair at 15-9 but Melbourne looked composed and had soaked up some intense Essendon pressure.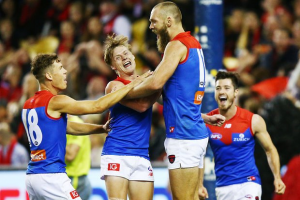 Melbourne got the perfect start to the second quarter when new recruit Charlie Spargo kicked his first of the game after the Dees dominated in the opening minutes.
The Demons didn't have it all their own way though as the Bombers kicked two unanswered goals from Laverde and Stewart. Tom MacDonald showed what an asset he is to Melbourne, intercepting and marking like he'd never been away. Unfortunately the next goal was scored by the Bomber's Jake Stringer. Not to be outdone, Charlie Spargo got his second, showing no debutant nerves. After a series of one pointers, Mitch Hannan kicked his second of the afternoon, giving the Demon faithful something more to cheer about. The first half ended 37-31, the same margin as the first quarter.
Jesse Hogan had looked out of sorts for most of the game but that didn't stop him kicking his first of the afternoon, from a 50 metre penalty. Tom McDonald didn't want to be left out and slotted the first of his comeback game two minutes later. The Dees were in front for the first time in the match. Then the moment came when Max Gawn showed what a versatile player he has become by kicking a perfect banana bender into the Essendon goal. Again, this was followed up two minutes later with a goal from Bayley Fritsch, making it six in a row from Melbourne.
The sight of Jesse Hogan crumbling on his ankle was not good and he limped off for treatment. Whether this had an affect on the Dee's momentum is hard to say but the goal run eased off for awhile until Fritsch decided he wanted more and kicked his second. Stringer then got his second for the Bombers a couple of minutes later to finally end Melbourne's run of seven unanswered goals. Then we had the infamous moment when an Essendon fan had some choice words for Big Max. Undeterred, Gawn repeated his feat from earlier in the quarter and went on a second bender. His look to the distraught Bomber's fan was worth a thousand words. Last week's goal hero Jake Melksham opened his account a few minutes before three quarter time and Melbourne went in leading the Bombers by nineteen at 57-76.
The final quarter was initially nearly all Melbourne with Mitch Hannan opening the scoring and Jesse Hogan (looking much better) getting his second goal. Tom McDonald then got his second before the other McDonald (as in Tipungwuti) also added a second. It was definitely a quarter for seconds when Jake Melksham also doubled his score. It wasn't all Melbourne though as a flurry of goals to Smith, Stringer and Zaharakis jangled a few Demon nerves. A last minute goal from Bayley Fritsch helped to settle them down again.
This was definitely Melbourne fighting back. The captain Nathan Jones was outstanding, even though he didn't get on the scoreboard. Neville Jedda and Christian Salem were also superb throughout. I'm definitely looking forward to how we fare against St Kilda next weekend. The Saints drew against the Giants last week so we definitely cannot take them for granted.
ESSENDON 2.3 5.7 6.9 10.12 (72)
MELBOURNE 1.3 4.7 11.10 16.12 (108)
GOALS
Essendon: Stringer 3, McDonald-Tipungwuti 2, Smith 2, Laverde, Stewart, Zaharakis
Melbourne: Hannan 3, Fritsch 3, Spargo 2, Gawn 2, Hogan 2, T McDonald 2, Melksham 2
Comments